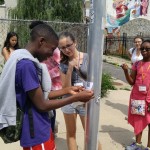 Spells Summer Writing Camp—Week 1 *TEENS ONLY*
Monday, July 10–Friday, July 14
9 a.m.– 12:30 p.m.
at Fleisher Art Memorial, 719 Catharine Street, Philadelphia
For ages 12–16
PLEASE NOTE THAT THIS CAMP WEEK TAKES PLACE AT FLEISHER ART MEMORIAL, NOT OUR USUAL SUMMER CAMP LOCATION.
Who do you think you are? How much do you know about your roots, the ancestors whose DNA you carry, the people whose struggles and successes eventually led to you? During this crash course in genealogy, you'll expand your family tree by scouring census records, searching newspaper reports, and using other online resources to learn more about your family and the times they lived in. You'll also explore the art of interviewing family members to record their memories before those precious family stories are forgotten. Finally, you'll bring one of your ancestors to life by writing and performing a monologue dramatizing a key moment from their life.
Campers should bring a rough family tree with whatever genealogical information their family already knows for the first day. Additional information about this will be sent to participants closer to camp.
Friends and family are invited to join us on Friday, July 14 from noon to 1pm as we perform our family history monologues.
Registration is free, but requires a refundable deposit of $25 plus processing charges. The registration will not be valid until the deposit has been received by Spells Writing Lab.