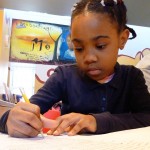 Saturday, April 2 and Saturday, April 9
11:00 a.m. – 12:30 p.m.
at Spells Writing Lab
Taught by Emilie Haertsch and Jen Danifo
For ages 7–12
Do you want to be an ace reporter? Come to this workshop to learn how to interview and profile a pal! Brainstorm interesting questions, practice your interviewing techniques, and write a feature story about another student. You'll go home with your very own profile that someone has written about you!