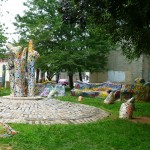 Saturday, December 11
1–2:30 p.m.
at Spells Writing Lab
Taught by Caroline Tiger and Chloe Tomlinson
Ages 7–12
Spells Writing Lab is transforming from a laboratory into a travel agency . . . with tickets to your favorite fictional places! Bring along a favorite book (or think of a movie) with an exciting setting and create your very own travel guide for that location. We'll help you brainstorm where to stay, restaurants for dining, and the can't-miss sights everyone should see at this imaginary destination. In the end we will compile the Ultimate Travel Guide to Imaginary Places with all of the locales.