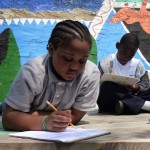 Saturday, April 28
1:00–3:00 p.m.
at Spells Writing Lab
Taught by John Encarnacion
For ages 7–13
Are you ready to enter the squared circle and be the next professional wrestling superstar? Becoming a superstar isn't just about your ability in the ring—you need to be able to "get over" and entertain the crowd with your microphone work to make it big. In this workshop, you'll learn how to develop your wrestling persona—either a crowd-favorite "face" or a villain "heel." Develop a backstory for your character, and then work on writing and performing a filmed promotional monologue. Do you have what it takes to be a champion?