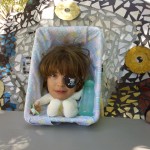 Spells Summer Writing Camp—Week 1
*WAIT LIST CLOSED, NO FURTHER REGISTRATIONS BEING ACCEPTED*
Monday, July 7–Friday, July 11
9 a.m.– 12:30 p.m. (one day of camp will have extended hours to accommodate a field trip)
at Spells Writing Lab
Taught by Spells Writing Lab
For ages 7–12
Welcome to Monster School! Dr. Spells is awfully sorry, but his Monster-Making Machine has gone haywire, and you've been transformed into one of his lab experiments gone wrong. In order to adapt to your new life, you'll need to study up on the history of your beastly brethren, revealing the real stories behind Hollywood legends like Frankenstein's monster, the Mummy, and Dracula. Other classes on your scary schedule include mad science, insect inspiration, and graphic novel writing for new monsters—will you make the ghoulish grade?
Note: One day of camp will have extended hours to accommodate a field trip, details TBD.
Registration is free, but requires a refundable deposit of $25 via credit card, PayPal, check, or cash. The registration will not be valid until the deposit has been received by Spells Writing Lab.