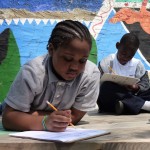 Saturday, May 21
1 p.m. – 3:30 p.m.
at Spells Writing Lab
Taught by Annette Allen
For ages 7–12
Sometimes the art in storybooks interests us more than the story! Learn to create stories and tales completely out of pictures. Join us and retell your favorite fairytales with your own drawings, or create a story all your own and take it home to share with family and friends. This workshop focuses on communication and expression through art.