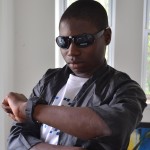 Saturdays, April 14 & 21
1:00–3:00 p.m.
at Spells Writing Lab
Taught by Elizabeth Encarnacion
For ages 7–13
You've been recruited to go undercover with Spells Writing Lab for this special two-session version of our popular spy school. After an intensive two days of training by our operatives, you'll have the skills you need to become a secret agent. Create your cover story, gather some pocket litter, and become a master of disguise. Learn the art of cryptography so you can send and decipher encoded messages. Then write fictionalized accounts of your most mysterious adventures. Do you have what it takes to be a master spy?