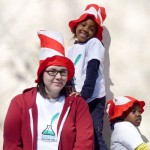 Saturday, February 20
1:30–3:30 p.m.
at Spells Writing Lab
Crane Arts Old School Building
1417 N. 2nd Street, Studio 1*
Taught by the staff of Spells Writing Lab and the BRIDGE
For ages 7–12
*Studio 1 can be accessed by walking through the Crane Arts Old School parking lot and entering the door at the top of the ramp (to the left of the callbox). Once inside, enter the door to the right and look for us in the lounge area!
Join Spells for our first weekend workshop in our new location, as we partner with BRIDGE to bring you a writing experience unlike anything you've done before!
We're celebrating Dr. Seuss's birthday a few weeks early, using yoga as a way to jump start tales inspired by his first book, And to Think That I Saw It on Mulberry Street. Through imaginative movement and breathing exercises designed to help remove writer's block and allow kids to be silly and outlandish, students will tap into their creativity in brand new ways while making "mountains from minnows" and creating a Seussical story of their own.
Participants should wear loose, comfortable clothing beneath weather-appropriate outerwear, as we will be walking around the neighborhood for part of the workshop, and plan on removing shoes inside the studio. Yoga mats will be provided.