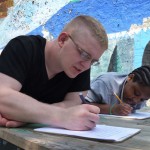 Monday, June 27 and Tuesday, June 28
12:30–2:00 p.m.
at Spells Writing Lab
Taught by Ben Heidengren
For ages 7–12
Poetry is everywhere, from pop, to hip-hop, to rap, to spoken word. People use it to express themselves or to send a message. This two-day workshop will help you get your feet wet in the awesome world of poetry. You'll learn about rhymes, rhythms, beats, and forms, and by the end of the workshop, you will have your very own poem in a brand new Spells anthology book.