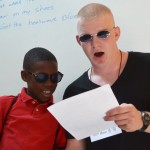 Saturday, April 12
1:00 p.m. – 3:00 p.m.
*public poetry reading at 2:30 p.m.*
at Spells Writing Lab
Taught by Spells Writing Lab
Ages 7–13
What's your favorite song? Did you know that it's basically a poem set to music? Poetry is all around us—in song lyrics, rap battles, and even advertising slogans! Join Spells as we celebrate National Poetry Month and Philly Poetry Day with a guided verse-writing session, followed by a public performance on the Ile Ife Park stage across from our lab (weather permitting)! Never performed a poem in public? No problem! We'll play some games to get us warmed up and ready for reading out loud, then practice our poems until we're performing like pros!
Friends and family are invited to join us at 2:30 p.m. for the poetry reading!