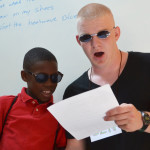 Spells Summer Writing Camp—Week 3
Monday, July 24–Friday, July 28
9 a.m.– 12:30 p.m.
at Spells Writing Lab, 1425 N. 2nd Street, Philadelphia
For ages 7–12
Are you an aspiring songwriter? Learn the ins and outs of rhythm and rhyme as we transform our lab into a songwriting studio! We'll work with professional musicians to learn what lyrics and poems have in common, inject some new life into classic tunes, and sing the blues. See the other side of the music business as we become music critics, reviewing songs from a variety of recording artists. By the end of the week, we'll write and record an original song!
*Note: we do not have access to our usual space on Friday, July 28, so we are working to arrange a field trip that may require parents to drop off and pick up from another location in Philadelphia. We will share information with registered parents as soon as possible.*
Registration is free, but requires a refundable deposit of $25 plus processing charges. The registration will not be valid until the deposit has been received by Spells Writing Lab.