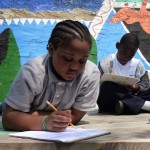 Spells Spring Break Writing Camp
Monday, March 25–Friday, March 29
9 a.m.– 12:30 p.m.
at Spells Writing Lab
Taught by Spells Writing Lab and CRED Magazine
For ages 7–14
SORRY, NO MORE SPOTS AVAILABLE
It's crazy to think you can plan, write, and design a magazine in only 5 days . . . but that's exactly what we're going to do during this year's Spells Spring Break Writing Camp!
We'll get the inside scoop on the magazine business from local magazine writers and editors. Then, working with the staff of CRED Magazine and other expert guests, we'll plan our own publication—writing feature articles, creating visuals, and designing the layout— all in just one week!
SORRY, REGISTRATION IS NOW CLOSED.