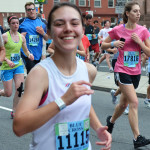 Sunday, April 27
2:00 p.m. – 3:30 p.m.
at Spells Writing Lab
Taught by Kathleen O'Neill and the South Philly Striders
Ages 7–13
Want to have your writing seen by an audience of 40,000+ people, all in one morning? On May 4, ten miles of Broad Street will be closed to traffic for the annual Broad Street Run, a race that features some of the world's fastest runners, plus many of your friends, neighbors, teachers, and maybe even a family member or two! During this workshop a week before the big event, we'll create signs to inspire the runners to glory or maybe just make them smile.
Drawing from classic advertising techniques, we'll brainstorm how to deliver a message in one shot, what makes a slogan catchy, and how humor can get your point across. Then we'll create our signs with help from members of a local running group and practice all the best ways to cheer runners on to the finish—including adding a little more cowbell. Get ready to take your writing to the streets of Philly!
*Note: Each participant will receive a cowbell they can use while cheering on runners during the Broad Street Run.