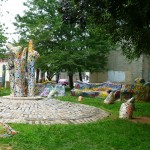 Saturday, March 17
10:30 a.m. – 12:00 p.m.
at Spells Writing Lab
Taught by Alexa Peluso
For ages 7–13
Greetings, earthlings from Planet Spells! Come along with us as we take our Spells students to a distant galaxy on a creative writing voyage. We'll explore the extraterrestrial worlds of our imaginations on a far-out adventure through the cosmos. Will the ground be made of marshmallows? Will elephants do the tango? The sky will be no limit for the fun we have in store!