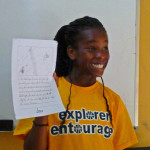 Spells Summer Writing Camp—Week 5
*A FEW SPOTS HAVE OPENED UP—EMAIL WRITE@PHILLYSPELLS.ORG TO SIGN UP!*

Monday, August 5–Friday, August 9
9 a.m.– 12:30 p.m.
at Spells Writing Lab
Taught by Spells Writing Lab
For ages 7–12
Boom goes the dynamite! Whether you're a die-hard Philadelphia sports fan or prefer to play ball yourself, join us at Spells to write about all your favorite sports! We'll get the ball rolling by meeting some real sports reporters and learn how their job goes beyond just writing the final score of the game to describe the details, atmosphere, and stories of the event for readers who were not there. Then we'll hit it out of the park by trying out other forms of sports writing, from blogs and podcasts to sportscasting and feature stories. Who knows? If you're a good sports writer, you could…go…all…the…way!
Registration is free, but requires a refundable deposit of $25 via credit card, PayPal, check, or cash. The registration will not be valid until the deposit has been received by Spells Writing Lab.
PLEASE NOTE: The Wednesday or Thursday session of this camp week may be extended, pending confirmation of a field trip. If we are able to make it happen, campers would be requested to contribute $10 toward expenses.