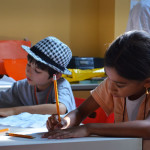 The Science of Experimental Writing is a four-session series of linked creative writing workshops presented in local public, charter, parochial, and independent schools—and now we're offering this program for homeschoolers!
During these immersive and engaging classroom visits, students learn how to lie like an author, rethink how they approach revisions, and reimagine their stories in surprising ways.
We are offering this special program in partnership with the Free Library of Philadelphia's Chestnut Hill Branch on Tuesdays starting on May 3 and running through May 24. When registering, please select the time that works best for your family: 10:30am–12:30pm or 1pm–3pm.
Students should plan to attend all four sessions of the program, as the writing activities are linked.