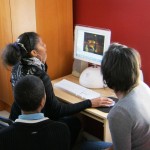 Saturdays, October 15–November 19 and December 3
2:00–3:30 p.m.
at Spells Writing Lab
Taught by Christina Rose Dubb, M.Ed., with filmmaker Tigre Hill
For ages 11 and up
Your Words. Your Photos. Your Film. Your Voice.
You have something important to say. Whether it's about your school, your family, your neighborhood, or your identity, you have a story that other people should hear. With our help, learn how to share your story in a dynamic way!
During this free six-week workshop, you will create a 3–5 minute Digital Story—a short, first-person video narrative created by combining recorded voice, still and moving images, and music or other sounds. We'll supply tokens for public transportation, provide video and still cameras to capture your observations, and help you use multimedia software to bring your vision to life. All you need to bring is you—your thoughts, your personality, and your creativity!