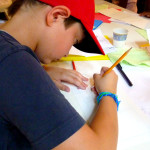 Saturday, April 27
2:00–4:00 p.m.
at Spells Writing Lab, 2526 N. Alder Street
Taught by Issa Revell
For ages 7–12
BAM! POW! Let's celebrate Superhero Month at Spells by making comics together! During this Spells workshop, we'll use our very own superhero personas to create comic books! Who will the characters in your comic book be? What will you do to save the day? How can you combine images with words to create an action-packed story of good vs. evil? We'll discuss all of these questions and more in this awesome workshop! See you there, superheroes!