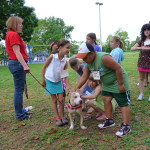 Spells Summer Writing Camp—Week 3
*WAIT LIST CLOSED, NO FURTHER REGISTRATIONS BEING ACCEPTED*
Monday, July 21–Friday, July 25
9 a.m.– 12:30 p.m. (day of field trip will have extended hours, date TBD)
at Spells Writing Lab
Taught by Spells Writing Lab
For ages 7–12
If you love animals, this is the week for you! Each morning we'll transform into Animal Explorers, seeking out local wildlife in the green spaces around Spells, writing shaped poetry and animal tales, and discovering our own imaginary creatures while on safari. We'll even take a field trip to the National Wildlife Refuge at Tinicum to film our own wildlife TV show! With special animal guests and plenty of critter creativity, this camp is sure to delight!
Note: One day of camp will have extended hours to accommodate our field trip to the National Wildlife Refuge, exact date TBD. All students will be required to have an animal waiver signed by a parent or guardian before participating in this camp week.
Registration is free, but requires a refundable deposit of $25 via credit card, PayPal, check, or cash. The registration will not be valid until the deposit has been received by Spells Writing Lab.