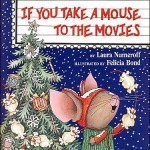 Sunday, December 12
1:30–3:00 p.m.
at The Gallery at Market East, Gallery I, 2nd floor next to Kicks USA
Taught by Maggie Leoffler
Ages 7–12
Have you ever thought about what crazy things could happen if you gave an animal a treat? The answer might be more than a little surprising! In this writing workshop based on Laura Numeroff and Felicia Bond's popular If You Give A Mouse A Cookie series, we will explore how small actions can lead to zany consequences, and how an everyday situation can turn disastrous—or hilarious! Taking place at the Gallery at Market East, this is a perfect opportunity for parents to get some holiday shopping done without the kids. And, as a special treat after the workshop, participants are invited to help paint the "How Philly Moves" mural, which is being installed next spring on the exterior of the airport.