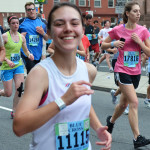 Want to have your writing seen by an audience of 40,000+ people, all in one morning? On May 4, ten miles of Broad Street will be closed to traffic for the annual Broad Street Run, a race that features some of the world's fastest runners, plus many of your friends, neighbors, teachers, and maybe even a family member or two! During this workshop a week before the big event, we'll create signs to inspire the runners to glory or maybe just make them smile.
Drawing from classic advertising techniques, we'll brainstorm how to deliver a message in one shot, what makes a slogan catchy, and how humor can get your point across. Then we'll create our signs with help from members of a local running group and practice all the best ways to cheer runners on to the finish—including adding a little more cowbell. Get ready to take your writing to the streets of Philly!
*Note: Each participant will receive a cowbell they can use while cheering on runners during the Broad Street Run.


Sunday, April 27
2:00 p.m. – 3:30 p.m.
at Spells Writing Lab
Taught by Kathleen O'Neill and the South Philly Striders
Ages 7–13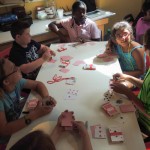 Ever seen a magic trick and been drawn in by the story as much as the magic? Magicians always rely on a script to make the illusion seem completely real for their audience. In this magic-packed workshop, you'll learn simple, deceptive sleights of hand and then take them to the next level by creating a story to mystify your spectators and leave them scratching their heads and believing you have supernatural powers. We'll begin with the three secret rules of magic and move on to the tricks and the scripting. Leave your bunny and top hat at home (if you have one, that is)—this is serious street magic you'll be able to do at home, school, or on the go to really wow people!


Saturday, May 10
11:00 a.m.–12:30 p.m.
at Spells Writing Lab
Taught by Justin Relkin
Ages 7–13